Student Member of the Board (SMOB)
The Howard County Association of Student Councils is a proud supporter of the Student Member of the Board of Education (SMOB) election process. Each year, one student represents the student voice as a member on the Board of Education. Unlike other Maryland jurisdictions, the HCPSS grants the SMOB full status as a board member and can vote on all issues except issues pertaining to budget, personnel, or other restricted matters.
Ready Policy 2010 governing student representation in HCPSS.
Check out this FAQ for more information on what it means to be SMOB.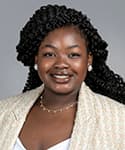 Abisola Ayoola, 2022-23 Student Member of the Board
Abisola Ayoola is a junior at Wilde Lake High School. She is particularly involved in her school community as a leader in various organizations such as Student Government, Class Council, Spanish Honors Society, Orchestra Board, and Rise Up Mentorship. Abisola is excited to serve as the 35th Student Member of the Board and advocate for student voices around the county.