Dhruvi Mirani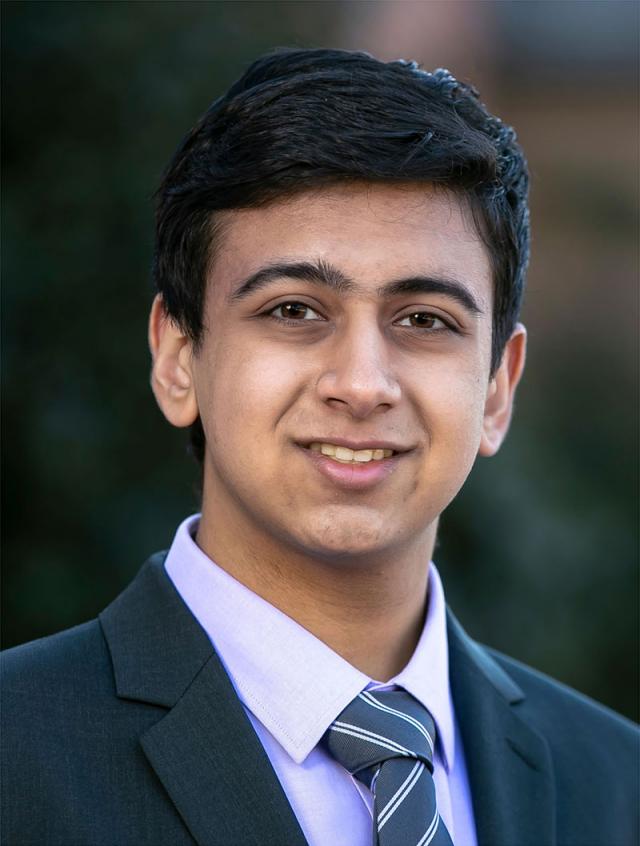 About Dhruvi Mirani:
Dhruvi is a junior at Glenelg High School, where he has been serving as Class of 2022 Student Government Association president for three years. He also serves as Policy Review Coordinator of the Howard County Association of Student Councils, ensuring that students have real influence in the decisions that affect them the most. Additionally, Dhruvi is the Co-Captain of Glenelg Debate and has debated topics ranging from the use of standardized tests in college admissions to the international maintenance of nuclear arsenals. He is also the Vice President of Glenelg Democrats. In previous advocacy work, he has testified to the Howard County Council, personally met with state legislators and members of the U.S. Congress, and interviewed several Board of Education candidates.
On the Policy 9260 Review Committee on Student Search and Seizure, Dhruvi presented evidence of an emerging consensus among legal scholars regarding the unconstitutionality of police dog drug scans in public schools to the committee and subsequently introduced a motion to end all such scans in HCPSS schools, which passed the committee on a supermajority vote. The Board of Education will soon be voting on his proposal, which expands students' Fourth Amendment protections, to take effect in the 2020-2021 school year.
Dhruvi served on the Ellicott City Student Task Force to address the effects of historic flooding on local infrastructure. The group's proposed Emergency Public Alert System was adopted into County Executive Calvin Ball's Ellicott City Safe and Sound program and implemented, along with other recommendations. Last summer, Dhruvi worked with the Johns Hopkins Center for Gun Policy and Research to advocate for state and federal gun violence prevention policies.
Dhruvi is advocating for bold, progressive change. As a student of color who has experienced racism firsthand, he knows the importance of strengthening equity; he is fighting for restorative justice practices, implicit bias and bystander intervention training, and keeping armed police out of schools. He's also advocating for post-pandemic access to Chromebooks and internet hotspots for low-income students, and offering free menstrual products in school bathrooms.
Dhruvi believes our schools need to prioritize students' mental health by facilitating peer-to-peer discussions, hiring additional school psychologists, and also getting to the root of mental health issues through later school start times and enforcing homework timing restrictions. As SMOB, he will also work towards making academics more holistic by pushing for curriculum reform including LGBTQ+ inclusive health education, emphasizing anti-racism in English and social studies classes, broadening financial literacy and civic education lessons, and minimizing the use of standardized testing as a measure of student success. Caring deeply about environmental sustainability, Dhruvi is advocating for High School #13 to be built with net-zero energy and for Howard County to take a pledge to contract a fully electric bus fleet by 2035, following the precedent of neighboring Montgomery County and other counties across the country.
Dhruvi is publishing policy briefs on his website, dhruvi4smob.com, for every point on his platform because he believes in real, tangible change, and he's posted more than 30 so far!
He has also built websites including an HCPSS grade calculator as well as a tool that helps people reach their elected representatives in Congress because he strongly believes in accessibility and accountability. That's why he's promised that as SMOB, he'll post a public schedule every single day so that students know that he's working towards their interests outside of Board meetings by talking to students individually, meeting with clubs and student organizations, and researching issues coming before the Board. It's important to him that students feel comfortable communicating with the SMOB. Dhruvi also plans on regularly holding SMOB Town Halls and commissioning a countywide student newspaper.
In his free time, Dhruvi loves playing piano and reading about history, especially biographies and political memoirs. Feel free to ask him for a recommendation! He also loves to listen to music: in 2020, he spent 88,026 minutes listening to Spotify. Some of his favorite artists are Taylor Swift and Fleetwood Mac. Feel free to DM him on Instagram or Twitter (@dhruvi4smob), and check out his website at dhruvi4smob.com!
Follow Dhruvi on Social Media:
Instagram - @dhruvi4smob

Twitter - @dhruvi4smob
Contact:
Text @DhruviSMOB to 81010 to receive updates